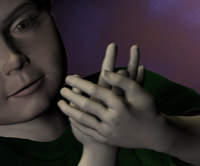 Enige tijd geleden kwam in de comments visualisatie en regeneratie ter sprake. Ik toen dat ik iets had gelezen over kinderen die verloren vingertopjes hadden geregenereerd. Leek me een sterk verhaal.
Ik heb het toch maar eens aan Google voorgelegd. Het lijkt inderdaad mogelijk. Hier zijn enkele links, ga naar Google voor meer, en speciaal scholar.google.com voor wetenschappelijke publicaties:
- "[...] in the very young, a certain amount of regeneration occurs to compensate for lost tissue", Med J Aust. 1979 Dec 1;2(11):580-2
- Gaat dit om een volwassene? Case report: "the distal phalanx generated to give an excellent functional result", J Hand Surg [Br]. 1993 Apr;18(2):230-3
- Marteling van apen. "The new structures were cosmetically pleasing as in the human instances", Anat Embryol (Berl). 1987;177(1):29-36.
Visualisaties zijn hier dus nog geeneens nodig.